Posted by Amanda Ostby on
It's October so that means it's time to celebrate my FAVORITE holiday of the year... Halloween! If you know me and my family, you know we like to go all out with our decor and costumes! Each year, our family costume is based on a movie or theme. I thought I'd share some from recent years!
Posted by Amanda Ostby on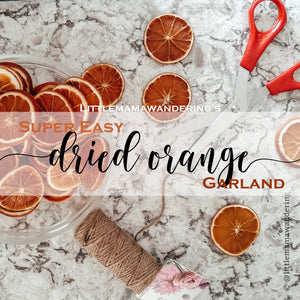 This classic decor items has made its way into my heart and home! I made a strand for my Halloween mantle and I just love how it transitioned through the end of Autumn, and on through the holidays.          This was one of those DIYs that seemed much more difficult than it actually was. Check out my tutorial and how I use them in my decor! •••••••• I added this dried orange garland to my Halloween mantle and I loved the touch of color and texture. They transitioned perfectly into my Thanksgiving/November mantle. What...
Posted by Amanda Ostby on
        Did you happen to catch my Halloween mantle and decor reveal over on Instagram? Halloween is my favorite holiday and this mantle was so fun to put together! I love changing it out seasonally and this month was such a treat. No pun intended... ok maybe a little intended! My mantle was just the beginning of our decorating. Check out the photos below and how I created our spooky space! If you know me, you know I like to find ways to do everything on a budget. Read on to see how I made these looks without...